An open letter from a group of 4th year students in the BSW program in the UBC School of Social Work with support from many students in the BSW, MSW and PhD programs. 
September 16, 2022
To Whom It May Concern,
We are speaking out today regarding the recent broadcast that UBC has released concerning Queen Elizabeth II's death and the subsequent day of mourning that the state of Canada has imposed on us.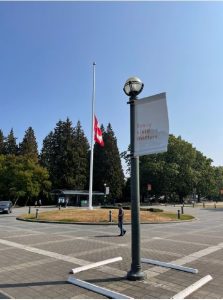 We want to express our utmost shock and disappointment in UBC's statement, which fails to acknowledge the irreparable violence inflicted by the British monarchy, the intergenerational trauma experienced by millions of people around the world during Queen Elizabeth II's reign, and the colonial 'legacy' left behind. The facts are in stark contrast to the description given in the statement and broadcast sent out by UBC stating: "Queen Elizabeth reigned through times of significant geo-political turbulence with a steadfast commitment to the duties bestowed upon her. In so doing, she became an iconic beacon of measured and gentle diplomacy."  and "The Queen had an unrelenting commitment to service and left behind an extraordinary legacy."  The statement also highlights the Queen's "legacy of civility and grace".
We want to acknowledge that it is unjust and oppressive to ask us to hold space for honouring the life and death of an active participant in the ongoing legacy of British colonialism. Instead, we suggest that this day be used as an opportunity to hold space for the countless people that have been displaced, oppressed, assimilated, and lost their lives at the hands of the British monarchy and their colonial regime.
Given the University of British Columbia's commitment to the implementation of Truth and Reconciliation, and of decolonization at all levels of education and practice, we request the following from UBC:
That UBC retracts the previous statement released on September 8, 2022 and the UBC broadcast sent on September 13, 2022.
That UBC provides an apology for not including those of us who are directly impacted by colonization in the discussion, decision-making and releasing of these statements.
That UBC acknowledges the harm that has been and continues to be caused by British colonialism.
As social work students, and community members, occupying the ancestral, traditional, and stolen territories of the xʷməθkwəy̓əm (Musqueam), Sḵwx̱wú7mesh (Squamish), and səl̓ílwətaɬ (Tsleil-Waututh), we have an obligation to honour the land and its people. In doing so, we must decentre colonial narratives and acknowledge the ongoing institutional racism, discrimination, oppression, and state-sanctioned violence.
Reconciliation requires humility and concrete action. Truth must come first.
THE SOCIAL LENS: A SOCIAL WORK ACTION BLOG - The views and opinions expressed in this blog are solely those of the original author(s) and do not express the views of the UBC School of Social Work and/or the other contributors to the blog. The blog aims to uphold the School's values and mission.
---
In response to this initial posting, the School received this reply from students at the Gender, Race, Sexuality, and Social Justice Institute: