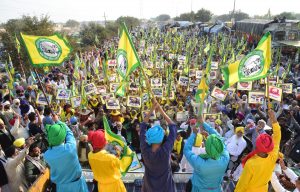 UBC Social Work students have written a letter of solidarity for farmers in India who are actively participating in the largest protest in history.
Farmers are demonstrating against new agricultural laws that will jeopardize their livelihood, further impoverishing small and marginal farmers,  providing greater control to agri-businesses and international corporations, and obstructing ancestral rights to the land. While the farmers remain peaceful, the Indian government is taking violent action against protesters. The UBC Social Work community has a responsibility to uphold a level of integrity and social justice, regardless of geographic location.
Over 100 signees have added their name to the letter, including the Director of the School, senior professors, adjuncts, staff and many students. Please read the solidarity letter below and use the link to sign.
Farmers Protest – Letter of Solidarity
We, students from the School of Social Work at the University of British Columbia, stand firmly in solidarity with the over 250 million farmers in India, who have been peacefully protesting against new agricultural laws. We are descendants of Punjab and have parents and grandparents who grew up as farmers there. As we still have family members in Punjab who are farmers, we are directly connected to this issue. In India, farmers are within their democratic rights to peacefully protest against the new agricultural laws amidst the COVID-19 pandemic. As India is considered the largest democracy globally, it is abhorrent that farmers are being met with state violence as they protest peacefully. The laws being implemented will deregulate agricultural markets. They will allow private corporations to exploit farmers for profit, further pushing them into debt. Farmers already have an alarming rate of debt and suicide. The impacts of passing these laws will be devastating for farmers and their livelihoods across India.
The climate of democratic protests in India for the safety of farmers' livelihood has been shaping since September 2020, but has only started gaining international recognition within the last month. Despite almost 250 million people protesting at the border of Delhi against the Indian Farm Reforms of 2020 and thousands around the world, we have yet to see any major news coverage or support on behalf of the School of Social Work. These bills were enacted without the consultation of agricultural associations or members working in agriculture, yet risks financial uncertainty for over 500 million farmers within India by deregulating the crop market and removing guaranteed minimum crop prices. This act effectively allows farmers to be undercut. Therefore, it risks not only their guaranteed income but also denies their ancestral right to work on their lands. This class disparity has been evident throughout India's history, highlighted in the modern day by the Sikh genocides of 1984 and the Tamil farming protests of 2017. The continuous narrative describing the Sikh population as terrorists is apparent under the State's portrayal of those protesting. Similar to previous demonstrations in 2017, suicide rates are increasing due to State neglect – we urge the School of Social Work to show support for our elders, family, and kin fighting against denial of human rights.
The farmers are peacefully protesting to reverse these three bills that were passed. They have been met with unnecessary use of force such as tear gas, water cannons, and barricades to prevent them from protesting. This truly goes to show the courage and resilience of the farmers. Many farmers have sustained severe injuries and even lost their lives. The Indian media is portraying these peaceful farmers as "terrorists" and "extremists." At the same time, it is the Indian government engaging in terrorist acts towards the farmers. If these new bills are not reversed, farmers will not have enough money to put food on their families' tables.
Moreover, there will be a spike in the already very high rates of suicides amongst farmers. The Indian government refuses to listen to their demands, portraying them as "illiterate" individuals who do not understand the benefits of these laws. These farmers live and breathe in the farms they work in. They know what is in their benefit and what is not. This bill is a corporate take-over of agriculture, and the farmers are the last line of defence. We admire our farmers and our elders' strength, who are peacefully advocating for their rights in India.
As descendants of India, we write to express our unconditional support and solidarity for farmers in India. They struggle against a government that seeks to dispossess them from their ancestral rights to farm on their lands. We condemn India's government for forcefully and violently suppressing India's citizens' human rights and democratic rights. As aspiring social workers, we are committed to justice and subsequently compelled to speak out against the human rights violations currently taking place in India. We want to emphasize the lack of media attention and social awareness in Canada, which further compels us to voice our support for farmers in India. The University of British Columbia's stated purpose is "Pursuing excellence in research, learning and engagement to foster global citizenship and advance a sustainable and just society across British Columbia, Canada and the world." With this in mind, we invite the University of British Columbia Social Work community, including staff, faculty, and students, to add their names as signatories below this letter as an expression of their solidarity with farmers in India.