The UBC School of Social Work and the British Columbia Association of Social Workers celebrated the 2022 Paul Cheng Memorial Lecture on September 13, 2022 during the School's orientation.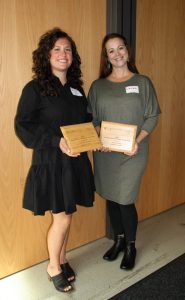 There were two deserving winners of the 2022 Inspiring Social Worker of the Year Award: Kathleen Cashin and Laura Honey.
During the lecture, they shared how they have been inspired throughout their own personal and professional journeys by their colleagues and friends who are dedicated to their work and committed to serve marginalized groups.
They both emphasized the importance of staying positive, not to say no or to not accept when someone says no to them, and proactive collaboration in the community along with a strong passion and commitment to serving marginalized groups.
Many thanks to our donor, Marion Man.
Biography
Kathleen Cashin
Kathleen Cashin, MSW, RSW, is the Anti-Human Trafficking Coordinator for Covenant House Vancouver where she takes a systems approach to supporting youth. Kathleen completed her Bachelor of Social Work at the University of Calgary and her Master of Social Work at the University of British Columbia in the field of practice of social and international development. Kathleen has been engaged with housing, homelessness, and youth in Vancouver since 2015 with roles spanning support work, social work, and coordination. Kathleen draws her inspiration from community leaders and folks with lived expertise.
Laura Honey
Laura Honey was a rebellious teen growing up in Shawnigan Lake on Vancouver Island. At the age of fourteen she made the executive decision that she was 'too cool for school', and in grade nine took high school retirement. Important adolescent hobbies were pursued until the age of seventeen when she came to the realization – this was not going to be her life. From that day forward nothing was the same. With a driver's licence, a 1984 Prelude, a job at Hot Spot Pizza, and an optimistic high school vice principal, who permitted Laura back into France Kelsey Secondary – twice. She graduated and then waded through life lessons until her early 20's.
It was in Pat Konkin's SOCW 200A class at VIU that Laura first experienced a sense of true inspiration, the feeling of being fully alive and passionate about something. Laura graduated with a BSW from UBC Okanagan in 2010. Three crispy years in child protection led to a happenstance career change into youth justice and residential care for high-risk youth. These provided working opportunities in the world of youth forensics and child & youth mental health. After completing a Masters in Counselling Psychology from UVic in 2016, with an adventurous white schnauzer and supportive husband, Laura set forth for a northern experience. Fort St. John awaited and is where Laura stumbled across a network of fellow wide-eyed movers and shakers in the social work and helping professions. People who have inspired big changes in lives, including Laura's. They influenced her passion to fill the gaps in mental health services for children & youth. These colleagues have proven that it takes a committed group to do big things and it takes a group of nuts like these to sign Laura up for this award. Currently, Laura works in private practice and is the co-director of Saplings Mental Health Services. Laura is grateful to all those mentors, teachers and critics who have been part of her story.
Background
Social work is a discipline and profession that requires practitioners to have a strong commitment to caring and social justice. Despite the tremendous pressure of limited resources and heavy workloads, many dedicated social workers in British Columbia work promote social justice and equity on a regular basis at many levels of practice and policy.
The UBC School of Social Work is proud to commemorate the contributions an outstanding social justice activist and social work leading-light, Paul Cheng. Paul was a social worker who immigrated to Canada from Hong Kong and dedicated himself to serve refugees, new immigrants, youth in care, street-involved youth, people with addictions, and many others in Hong Kong and Canada for over forty years. It is widely recognized by his colleagues, clients, students, and friends that Paul's deep caring, enduring social justice ethics, strong professional practice, and tireless personal efforts touched and inspired many people in the social work and larger community. In memory of Paul, the Inspiring Social Worker of the Year Award was established to recognize social workers in British Columbia whose professional and personal efforts and dedication to people from marginalized communities has inspired others to care and contribute to social justice.