Congratulations to Social Work students Kayla Kenney and Amanda Cama for winning one of three Research-to-Practice Microgrants through SOGI (Sexual Orientation and Gender Identity Inclusive Education) UBC.
This opportunity sought proposals from students engaged in research related to sexuality and gender to design educational resources for PK-12 teachers drawing from their scholarship. This microgrant will fund the creation of a video storytelling project where trans, nonbinary, and gender diverse young adults speak to the importance of affirming support in schools through sharing their experiences of support from peers and teachers during their own education. The video and accompanying lesson plan will be presented to a panel of teachers and scholars with expertise in SOGI education, who will provide feedback on the resources at a virtual conference this summer. Following the conference, all winners' projects will be published on the SOGI UBC website and promoted through SOGI UBC social media channels.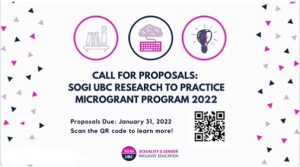 SOGI UBC is funded by the Jane Rule Initiative at UBC established by Dr. Robert Quartermain.